Welcome to Zecuppa
Zecuppa Coffee offers fresh roasted premium arabica beans and wholesale coffee prices for all customers. Freshness is the key to great coffee. Zecuppa roasts and ships the same day! Located near Seattle, with fast shipping throughout the United States. See
Zecuppa's customer feedback
on eBay.
Featured Products
Fresh Roasted and High Quality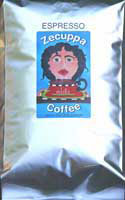 At Zecuppa Coffee we are passionate about coffee and it shows in every batch of coffee we roast. We carefully select only premium coffees and roast each batch with care.
Zecuppa coffees are roasted using a unique hot air system. Modern temperature controls are used to keep temperatures below 500 degrees. This exposes the coffee beans to less smoke and prevents scorching. The result is a fragrant and smooth tasting beverage without the usual bitterness. Zecuppa coffee makes a healthier beverage compared to drum roasted coffee as the beans are exposed to very little smoke or scorching.
Zecuppa coffees are made from 100% premium Arabica beans. For top freshness, all coffees are sealed in a foil valve bag immediately after roasting. Orders are roasted and shipped the same day!
Taste the difference. Delicious!