Altura Coatepec
Altura Coatepec is high grown coffee from the historical red-tiled town of Coatepec, Mexico, 15km (9 miles) south of Xalapa.
Arabian Mocha
Arabica coffee from the Yemen port of Mocha. Two famous market names for this coffee are Mattari and Sanani. Sanani is medium bodied with wild, fruity acidity, while Mattari is medium to full bodied, with good acidity, and chocolatey undertones. The word mocha is associated with chocolate because when cocoa was first introduced in Europe, it reminded people of Mocha coffee from Yemen. Arabian Mocha, grown in the northern mountains of Yemen, is one of the oldest and most traditional of the world's coffees. It is also one of the finest. This coffee has been cultivated and processed in the same way for centuries, grown on mountain terraces and naturally dried. No chemicals are used in its production, and it is no doubt organic.
Arusha
A region in Tanzania at the foot of Mt. Meru. Tanzania produces excellent Arabica coffee, most of which is grown on the slopes of Mt. Meru and Mt. Kilimanjaro.
Bani
Bani is a city in the coffee producing region of Sierra Sur in Dominican Republic. Bani has been a trade name for coffee from the City of Bani. There are various micro-climates in Dominican Republic that produce beans with distinct physical and taste characteristics. The government of Dominican Republic established seven official coffee-growing regions: Barahona, Cibao, Neyba, Noroeste, Sierra Central, Sierra Occidental, and Sierra Sur.
Blue Mountain
Jamaican Blue Mountain is one of the world's most controversial coffees. The best Jamaica Blue Mountain coffee is characterized by a nutty aroma, bright acidity and a unique beef-bouillon like flavor. However, lack of attention to quality has led to some mediocre, over-priced product. Some confusion exists about where the boundaries for growing this coffee actually lie, and often coffees of lesser quality are packaged under its name. Jamaican High Mountain is a term that applies to coffees of lesser quality that are grown at a lower altitude than Jamaican Blue Mountain. Jamaica High Mountain and Jamaica Blue Mountain coffees are produced using the wet-process.
Bugisu
Market name for Arabica coffee from the slopes of Mt. Elgon in Uganda, near Kenya. Most coffee produced in Uganda is Robusta, and is used for making instant coffee. Bugisu is a bright coffee with flavor characteristics comparable to Indonesian or Kenyan coffees.
Chiapas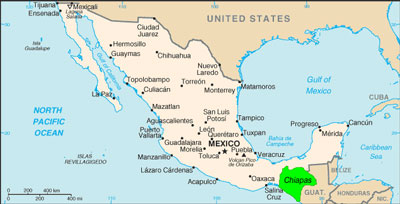 Chiapas is the southernmost state in Mexico, and shares a border with Guatemala. The coffees of Chiapas are typically well balanced with a chocolatey brightness, and are more comparable to high grown coffees from Guatemala.
Chipinge
Chipinge, formerly named Chipinga, is a town in southeast Zimbabwe on the slopes of the Chimanimani mountains which, as part of the Eastern Highlands, forms a natural border with Mozambique. Good agricultural conditions allow the Chipinge region to produce the finest coffee in Zimbabwe, produced under the market name Zimbabwe Salimba, or Zimbabwe Salimba Estate. Zimbabwe Salimba has a rich flavor comparable with other fine African coffees, is well balanced and has a good aftertaste.
Coatepec
Coatepec is a charming town with cobblestone roadways in the Mexican State of Vericruz, 15km (9 miles) south of Xalapa. Coffee from the Coatepec regions is marketed under the name Altura Coatepec and is one of the best high grown coffees from Mexico.
Ethiopia Harar
Coffee from the harar region of Ethiopia.
Ethiopia Harar
is a flavorful and aromatic dry processed coffee with a wild berry acidity. Ethiopia Harar is commonly designated as Shortberry or Longberry. The Longberry variety, which comes from coffee cherries that are physically longer than normal, typically produces coffee with an unusual wild-blueberry-like aroma. Also spelled Harrar or Harar.
Ethiopia Sidamo
Coffee from the Sidamo region of Ethiopia. Sidamo, also called Sidama, was a large province in the southern part of Ethiopia prior to 1995, but is still used to designate a geographical area of Ethiopia. The Sidamo province was named after the native Sidama, or Sidamo, people. With the adoption of a constitution in 1995, the Sidamo Province was divided into new regions. One of the newly created regions, The Southern Nations Nationalities and Peoples Region (SNNPR), includes the Gedeo zone, where the Village of Yirga Ch'efe is located. Coffee grown near Yirga Ch'efe, while from the greater region sometimes identified as Sidamo, is marketed under the name Yirgachefe (also spelled Yirgacheffe).
Ethiopia Yirgachefe
Coffee from the higher elevations of the Sidamo region of Ethiopia near the village of Yirga Ch'efe.
Ethiopia Yirgachefe
is typically wet processed. Yirgachefe coffee is considered by many as the cream of the crop in Ethiopia and is known for its sweet fruity acidity and floral aroma. Sometimes spelled "Yirgacheffe".
Guatemala Antigua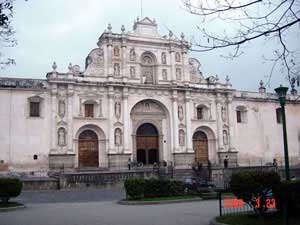 Coffee grown in the central highlands of Guatemala near the historic City of Antigua. Antigua is Spanish for "old". One of the most well known and highly rated coffees in Central America,
Guatemala Antigua
is balanced and aromatic, generally with a slightly chocolate acidity. The Antigua region produces well known and highly rated specialty coffees that rank with the most flavorful and nuanced coffees in the world.
Guatemala Coban
Coffee grown in the Guatemalan highlands, near the town of Coban. Guatemala Coban is sold under the market name "Tanchi", and is comparable to other bright and fruity Guatemalan coffees, but often with unique characteristics, such as bittersweet spicy notes.
Guatemala Huehuetenango
Coffee from the Huehuetenango ("way-way-te-nan-go") region. Huehuetenango is an approximation of an Aztecan term for "place of the ancients". This coffee from the western highlands of Guatemala, is bright, aromatic, and fruity.
Hawaii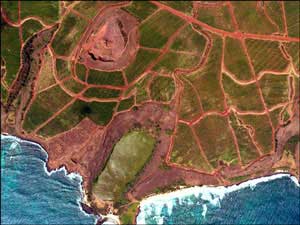 Hawaiian coffee is grown primarily on the islands of Hawaii and Kauai, with coffees from the Kona region of the island of Hawaii being the most expensive. The best estates grow beautiful, large, flat beans, which produce a medium-bodied brew, with buttery, spicy characteristics. Consumers should beware that many Hawaiin coffees being sold as blends may contain only 10% Hawaiian coffee, and are typically blended with Latin American coffees. Hawaiian coffees demand a premium price, although the flavor characteristics of some lower priced Latin American coffees may rate even higher. Coffee is grown on the islands of Molokai, Kauai, and Maui, but the Kona region of Hawaii has better growing conditions (higher elevations and a relatively dry environment).
India Monsoon
Aged Indian coffee exposed to monsoon conditions, with a golden color and a unique mellow flavor. Over 150 years ago the British started cultivating coffee on the Southern slopes in India and transporting the raw coffee to Europe in large wooden ships. The journey around Cape Hope took almost 6 months. During this long journey the raw coffee was exposed to rain and humidity causing the coffee's characteristics to change. The coffee became pale gold in color, lost acidity and swelled in size. Europeans became accustomed to this coffee with its mellow earthy flavor. After the Suez Canal opened the shipment became very short and the coffee was no longer aged in the monsoon winds, causing the coffee to lose popularity since it looked and tasted different. To recreate the monsooned coffee,
India Monsoon
is now purposely stored in monsoon conditions on the Malabar Coast of India for 12-16 weeks. During this time the coffee is periodically rotated for even exposure.
Java
Indonesian coffee from Island of Java. Early Dutch explorers brought Arabica trees to Java, which became the world's leading producer of coffee until Rust Disease wiped out the crop. The trees were replaced with more disease-resistant, but less desirable Robusta. With the support of the Indonesian government, Arabica is once again being grown on some of the original Dutch estates. Estate Java is a wet-processed coffee that is more acidic, lighter in body and quicker to finish than other coffees in the region. Smoke and spice are flavors often associated with this coffee's acidity. Some Javanese coffee is stored in warehouses for two or three years and is referred to as Old Java. This aging process causes the coffee to lose acidity and gain body and sweetness.
Sulawesi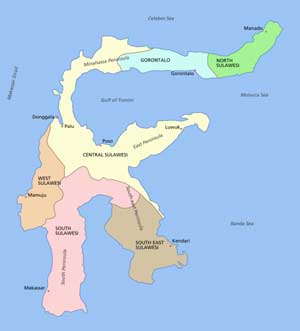 Once known as Celebes, the island of Sulawesi in Indonesia produces some of the world's finest coffee. Celebes Toraja, grown in the mountainous area near the center of the island, is one of the most famous. Coffees from Sulawesi are processed using the dry method and possess an intriguing combination of sweetness and earthiness. They are low in acidity with a deep almost syrupy body. These coffees are more expensive than Sumatran coffees because of small yields and the fierce demand for this coffee in Japan.
Sumatra
Two of the world's best and most famous coffees come from Sumatra: Mandheling and Ankola. Both are semi-dry processed coffees grown in west-central Sumatra near the port of Pandang at altitudes of 2,500 to 5,000 feet. Mandheling is known for its herby aroma, full body, low acidity, and a rich smooth flavor. While most coffees are named after the country, or growing region, where it is farmed and harvested,
Sumatra Mandheling
is named after the "Mandailing" People that traditionally farmed and processed the coffee beans. A WWII Japanese military man stationed in Sumatra is said to have asked a local Sumatran where his coffee originated, but the Sumatran man mistakenly thought he was being asked about his ethnicity and replied "Mandheling". The name stuck as word spread about the coffee in Japan and merchants began inquiring about the purchase of Mandheling coffee from Sumatra.